News – News – News – News – News
Winter is fading away, and so we open again Haus Speier in April 2022. Sunday visitors are welcome on April 10 and 24. School classes are requested to register anytime on joachim-legatis@t-online.de.
We are happy to welcome you at Haus Speier!
Opening in September 2020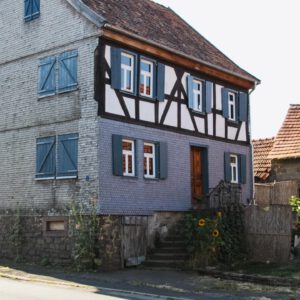 Taking into account that Angenrod in the 19th century had more than 40% Jewish inhabitants, the SpeierHaus as the last house in Jewish ownership until 2016 and the place where the last Angenrod Jews were isolated and deported in 1942, is of utmost significance.
The opening of the exhibition in September 2020 aimed to visualize the living and working together of Jews and Christians.
Speierhaus as a Place of Learning and Experiencing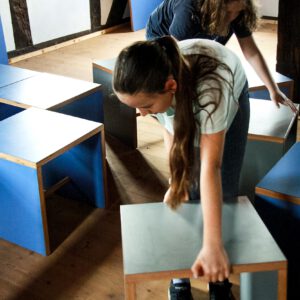 With pictograms on the exhibits and panels of the 15 platforms films and information can be viewed on pads which show Jews and Christians of the Vogelsberg area working together, next to each other or even against each other.
In a learning room on the upper floor there are six tables and 28 grey and blue stools in a relation of 40 to 60% – the proportion of Jewish as compared to Christian population in the 19th century.
SPEIERHAUS
LERNORT | GEDENKSTÄTTE
Leuseler Straße 3
36304 Alsfeld-Angenrod
Germany
OPEN
March 1 until October 31
every 2nd and 4th Sunday of the month
from 2:00 p.m. to 5:00 p.m.
Groups are welcome anytime and requested to register in advance via email: joachim-legatis@t-online.de
DONATIONS
Please help to secure our exhibition and to protect it from violence or vandalism by donating a sum.